Quality Concrete Block Company
Athens & Elberton, Georiga
Quality Concrete Block is a division of Turner Concrete, Inc. and has two concrete block manufacturing plants, in Athens and Elberton, Georgia. These concrete block manufacturing facilities produce many types of concrete blocks for building construction, retaining wall construction and other construction projects. We sell to anyone, wholesale and retail.
BEST BLOCKS IN THE BUSINESS - Concrete Blocks
With two manufacturing facilities in Northeast Georgia, we are proud to supply a quality selection of products to the residential and commercial construction markets. Our large selection and dependable delivery provides you the best in the block business.
Quality Concrete Block offers all sizes of CMU Masonry ranging from 4x8x16, 6x8x16, 8x8x16, 12x8x16 units. We have solids, bullnose, half highs, bond beams & knockout concrete blocks available in the grey block line. We are also pleased to offer splitface units in all sizes, with bond beams and knockouts to complete your commercial needs.
Concrete Block Mortars - We also carry a full range of mortars; Type N, Type S, Ultra Dark, Buff, and a range of custom colors. Call for details and color selections.
Mortar Sand - Mortar Sand is available in bulk quantities as well as small quantities in our well known "one ton" bags.

Concrete Blocks Athens, Georgia, Wholesale & Retail
We manufacture just about every type and size concrete block and have a large inventory on hand so we can help you with short time frame projects. We can also coordinate project site delivery. Below are just a few of our many concrete block products. Give a call in Athens at 706-548-4242 or Elberton at 706-283-1464 and we will be happy to work with you on your next project.
Splitface Block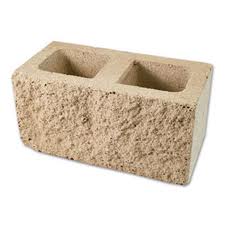 Splitface block provides and appearance of natural stone, and are molded with two units attached face to face, then mechanically split after curing to expose the natural beauty of aggregates. The broken aggregate of the Splitface block provides both unique texture and appearance. The aggregates used in the splitting process will give each block its own distinct look; therefore, no two units are exactly the same. The natural rustic texture of a splitface block is a durable, economical, and virtual maintenance free alternative to many facings or veneers that are available today. It easily sets a design tone, mood or context and makes a dramatic statement. Splitface is available in two colors, Gray and Earthtone.
Scored Block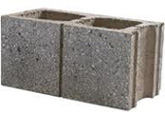 Scored block is used to simulate the mortar joints of the units above and below. The scores are essentially false joints in the masonry unit. Scored block is manufactured by using a mold with the score already in place. Scored block can help you transform a plain masonry wall into a more pleasing design and add extra visual appeal without sacrificing any load bearing capability. Scored is available in two colors, Gray and Earthtone.
Construction Block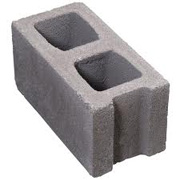 Construction block has been used throughout the years in many types of structures. There is an almost limitless variety of concrete masonry units. Due to its strength, durability, and excellent fire rating, concrete block provides a long lasting building alternative. Concrete block has high R-values for energy efficiency and will provide versatility and aesthetic appeal to any project. Design and creativity have no bounds when combining size and shape. Best of all, we can still benefit from the structural properties associated with traditional concrete masonry. Gray construction block is always available in many sizes and shapes. Construction block is available in two colors, Gray and Earthtone.
Concrete Block Sales
Athens Area Sales Craig Cleveland 706-548-4242
Elberton Zeno Thomas Phone 706-283-1464
Toll free 1-800-278-3553

Quality Block Locations
Elberton Quality Block - 1146 Old Middleton Road, Elberton, GA 30635
Athens Quality Block - 940 College Avenue, Athens, GA 30601